Rise of a New 'Drug' Puts the Community on Edge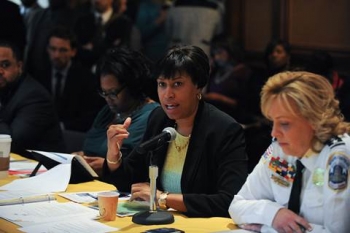 K2, Spice, Scooby Snax, and Bizarro. Clever names printed on small packages containing a deadly substance. Synthetic marijuana has been making its rounds among residents in the District. In May 2013 the DC Department of Behavioral Health (DBH) launched its first social marketing campaign to warn youth about this substance. It was the alternative to natural marijuana because it was legal to consume and relatively easy to get. The department hoped that they could stall K2's popularity by alerting the general public of its "zombie" effect. The District, along with 40 other states, banned the sale and distribution of the synthetic drug. Now DBH is launching phase two of the campaign, aiming at adults and youth. The expectation is to save people from this drug through education.
Adult Consumption
Adult consumption of fake weed is being reported more in the media though it is certainly not new. The first reports came in 2011, when midshipmen in the US Naval Academy were expelled after being caught using Spice. Earlier last month the District saw a spike in overdoses among the homeless population in a shelter located downtown.
However, the use of K2 is not limited to the homeless or the downtown area. Many adults across the District have been risking their health and life for a K2 high. Dr. Barbara Bazron, interim chief of the DBH, urges people not to take the risk. "Consuming these products can be deadly from a health perspective. It can cause panic attacks, psychotic episodes, hallucination, rapid heart rate, seizures, brain damage, loss of motor skills. The bottom line is it is dangerous and deadly."
The other side of adults and K2 is the bevy of concerned citizens who in December 2012 organized themselves and, along with DC Delegate Eleanor Holmes Norton, protested the sale of K2 at an Exxon gas station on Benning Road in Ward 7. The owner promised to stop selling the drug, but he is just one of many dealers that infuse the community with this manufactured product.
Councilmembers Yvette Alexander (Ward 7) and LaRuby May (Ward 8) are committed to stopping dealers from distributing K2 in their neighborhoods. Alexander, who is also chair of the District Council's health committee, says she wants the community to continue to be more involved in the crackdown. "I need community members to report retailers and people who sell it. Let the police know about it. Let the Council members know about it. Educate each other about the effects of it."
A Moving Target
From a health perspective, not only does synthetic marijuana have severe health effects but treating a user can be difficult. Synthetic marijuana has over 200 different varieties, and its chemical composition frequently fluctuates. Users don't know what they're getting when they purchase a package. This makes K2 hard to detect in a drug test but it also makes it hard for doctors to treat when a person takes ill. "The problem is that nobody knows what's really in these products," says Dr. Cathleen Clancey, associate medical director at the National Capital Poison Control Center and an emergency room physician. "It's sold as K2 or spice. But there are very different agents in them. It's a bit of a moving target." She warns, "In a way I think it's more dangerous [than natural marijuana] because what's in those packets are unknowns. You could put anything in those packets. People are treating themselves like guinea pigs. People are really experimenting."
The National Capital Poison Control Center has been fielding phone calls from people who have ingested unknown chemicals that made them sick. Dr. Clancey says that lately the calls have been from medical professionals who are unsure about how to treat people who have used a brand of synthetic marijuana. "Most of our calls are from medical facilities," she explains. "They are seeing an increase in acuity; people are sicker than before. The treating physicians call to see what's going on. Is there something new? Is there a special antidote?" The answer is yes, there is something new. But it continues to change all the time, making it difficult to identify a consistent treatment plan.
Appeals to a Younger Audience
There is a bit of a tug-of-war when it comes to the youth in the District. Dealers market synthetic marijuana in colorful, funny packaging to attract the eye and pique the curiosity. It is inexpensive ($10-$15), accessible, and undetectable in drug tests. The chemicals have been synthesized and supposedly bind with cannabinoid receptors the same way natural marijuana does. And while the sale of this product is illegal, possession of it is not. A DC survey found that by the time teens have reached tenth grade 1 in 5 has tried synthetic marijuana.
Health and city officials have renewed education efforts about the dangers of K2. DBH has launched the second phase of its zombie campaign, which includes more bus and Metro train signage. Charles Dark, director of the Prevention Center housed in Sasha Bruce House, states that from the prevention aspect education is the best weapon: "We hear a lot about kids passing out and becoming dehydrated, having psychotic episodes. This problem has been growing for a while. What we do is try to educate youth before they get into the use of these synthetics. If you haven't started this habit, don't even go there."
Additionally parents need to get involved with the conversation around drugs. While it may be difficult to begin "the talk," Dark recommends that parents break the silence sooner than later. "We know that parents need help discussing drugs with their kids. In the communities we serve it's looked upon as taboo to even talk about drugs. The best thing to do is to address it without sugar-coating it: 'This is what I think and see. If I'm wrong, tell me. But we have to talk about this.' The sooner you intervene the better the chances you have of getting your loved ones out of the addiction."
Synthetic marijuana won't go away quickly or quietly. It will take a united force of parents, community leaders, and health professionals to shut it down. Only time will tell if conversations and legislations will eliminate this drug from vulnerable populations in the District. Everyone must play a part.
For more information about synthetic marijuana visit www.k2zombiedc.com. You can also call the DC Department of Behavioral Health, 888-7WE HELP (793-4357).