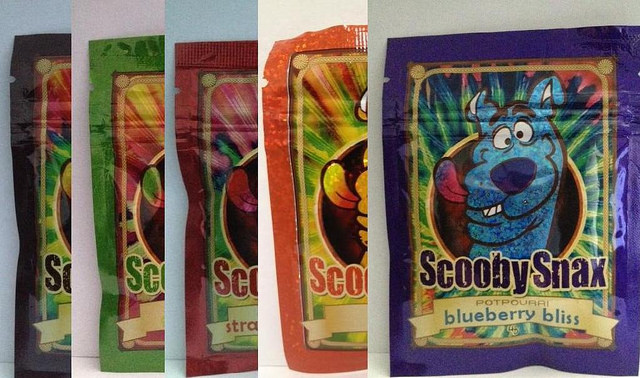 Photo via Flickr.
With nearly a dozen people suffering from an overdose of synthetic marijuana, District police and fire officials had to set up a mobile command center in downtown D.C. last Friday.
The drug responsible was allegedly a form of synthetic marijuana known as "Bizarro" and it affected 11 people outside of the city's largest homeless shelter, the Community for Creative Non-Violence. But Friday's events didn't happen in isolation.
According to police reports obtained by DCist, three adult males were taken to the hospital on the morning of Friday, May 8 in two separate incidents that were thought to be the result of synthetic marijuana overdoses. And on the same day not too far away in Glen Burnie, Md., four homeless adults were hospitalized "after they were found unresponsive at a makeshift camp" as a result of ingesting synthetic marijuana, The Washington Times reported.
Shortly after news spread of Friday's mass overdose, Mayor Muriel Bowser's office sent a release saying that the city has seen a "dangerous spike" in synthetic drug overdoses in recent months. The situation—particularly in parts of downtown D.C. where homeless residents often congregate—has gotten so bad that multiple local government agencies are working together to try and eradicate the issue.
This isn't a new issue, though. Synthetic drugs—particularly synthetic marijuana—have been a problem around D.C. for at least a few years before D.C. Del. Eleanor Holmes Norton famously got wind of it in 2012 and dispatched one of her aides to buy some. Popular strains of synthetic pot (known as Scooby Snax, K2, Spice, and Bizzaro) were outlawed by the Department of Consumer and Regulatory Affairs late last year, though that hardly ended the problem.
But what caused last Friday's mass overdose—and what is causing the recent spike in overdoses—may be the work of a new strain of synthetic marijuana, suspects DowntownDC BID executive director Richard H. Bradley.
"What we have here, I think, is a different drug … that seemed to be affecting people the other day," Bradley tells DCist. "We've noticed the arrival of this [new drug] in the last 90 days and, as a result, we're in the process of working both with MPD and the U.S. Attorney's office."
Eric Sheptock, an advocate for the homeless in the District, also believes that the recent overdoses are the work of a new, more powerful batch of synthetic marijuana that came from New York, the Post reports.
Though Bradley says Friday's mass overdose was the largest that he's heard of in that area, he says it's not uncommon for "two or three of these incidents" to happen on some days. And, in a press conference yesterday, Bowser said that many of these overdoses go "unreported or untreated."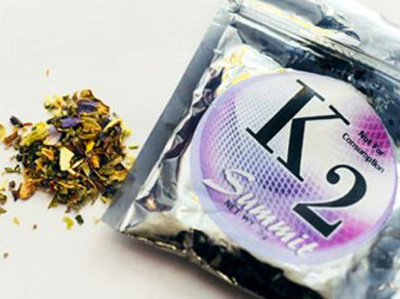 Via National Institute of Drug Abuse.
Although certain brands of synthetic marijuana weren't officially outlawed until last year, the District has been diligent in spreading the word about their dangers through various community outreach campaigns. In May of 2013, the District's Department of Behavioral Health launched a massive campaign aimed at educating youth about the dangers of fake weed.
The "K2 Zombie" campaign may seem like a lame attempt to connect with the city's youth, but it's actually because the drug can cause what health officials call a "zombie"-like effect.
"People can become extremely anxious, they can become extremely paranoid in some instances, they can have panic attacks. Sometimes they have aggressive behavior, hallucinations," Department of Behavioral Health director Barbara J. Bazron tells DCist. "All of these things are called the 'zombie effect.'"
And those are just the external effects. Internally, Bazron says, synthetic pot can increase heart rates and cause seizures or nerve damage. Sometimes, users to lose their motor skills. It's these kinds of symptoms that the victims of recent overdoses have reportedly exhibited.
While synthetic marijuana is a region-wide problem—and the DBH's outreach efforts stretch to all eight wards—the problem is particularly acute in downtown D.C. right now. And there's no easy solution.
The problem is prevalent among downtown's homeless residents, but Bradley says that it's not limited to that population. "The distinction I want to make here is that this isn't so much a homeless problem, is that it's a problem of this particular drug, which happens to be, in certain forms, distributed relatively inexpensively," he says.
The real issue, Bradley says, is that dealers who are obtaining synthetic marijuana are operating in places where the District's homeless populations usually hang out—like outside of the CCNV homeless shelter and around the Martin Luther King Jr. Library—as a way to deal synthetic marijuana incognito.
"What's happened to us is that drug dealers are infiltrating in and among the homeless as a way of being invisible and conducting their business," Bradley says. "As a byproduct, some of this is being distributed to homeless people."
It gets more complicated. Synthetic marijuana is banned in D.C., but that's not the case in nearby states, where it can be easily purchased at almost any gas station. That makes it fairly easy for distributors and dealers to bring it into D.C. and sell it for cheap.
And with producers and manufacturers constantly changing the chemical composition and branding in order to skirt new laws, it becomes even more difficult to regulate—and also, more dangerous. "By changing the ingredients," Bradley says, "it's as if the suppliers or the producers want to get ahead of enforcement or health regulators."
But the DCRA's latest adopted regulations instead targets the packaging and price of synthetic drugs, rather than the chemical ingredients of it. Under DCRA regulations, any product that's sold with the intent to "produce effects on the central nervous system or brain function to change perception, mood, consciousness, cognition and/or behavior" in ways that are similar to marijuana, cocaine, or any Schedule I drug are illegal. Moreover, the regulations allow government officials to treat any product that is "expensive and contain unusual warnings" as synthetic drugs (the example the DCRA gives is that regulators could deduce that a gram of glass cleaner being sold for $20 with a "not for sale to minors" warning on it as a synthetic drug).
In yesterday's press conference, Bowser, along with Metropolitan Police Chief Cathy Lanier, said government agencies are still working to address the problem.
"My administration is working multiple resources to crack down on the distribution and consumption of these dangerous synthetic drugs," Bowser said, adding that her administration is working with the D.C. Council to finalize language in legislative measures aimed at cracking down on the sale and distribution of synthetic drugs.
Meanwhile, the DBH's K2 Zombie campaign has a Youth Prevention Leadership Pool, in which they have youth volunteers help educate their peers about the dangers of synthetic marijuana. Bazron says they're about to launch the next phase of the K2 Zombie campaign, which will feature Metrobus and bus stop ads throughout D.C., as well as "mobile advertisements" circulating through neighborhoods in all eight wards. They're also working with their homeless outreach team to ensure that information is provided to individuals who are homeless.
And Bradley says the DowntownDC BID is actively and aggressively working with the MPD and the U.S. Attorney's Office to eradicate the particular issue in downtown D.C.
"We're very concerned on all levels," he says. "We're concerned for the homeless people who are vulnerable, we're concerned for the public health issues, but we're also concerned about the need to interdict this kind of drug dealing."